If you've ever wanted to create a more magickal life, this is for you.
I recently created a Magickal Living workbook, officially called: Magickal You: A Workbook for Reclaiming Your Power and Crafting Your Magickal Life.
I'd asked my community if they'd love pre-access to the Magickal Living workbook content, before it gets made all pretty by my designer.
And was overwhelmed by responses.
I guess it shouldn't be a surprise as who wouldn't want to live a more magickal life!
I received lots of comments like:
'Yes! Sounds like just the thing I need at the moment 😊'
'How did you know this was exactly what I need right now!'
'This workbook sounds amazing I would love to access it sooner. So it's a Yes from me.'
My designer is currently working on a journal called: Seasonal Soulscapes: A Magickal Journaling Journey Through Nature's Rhythms.This is a journal prompt each day of the year to guide you through the energy of the seasons to understand how they influence you, your power and your magick.
I am very excited about this one!
And in the meantime, I'd initially thought I would make it into blog posts, but there were A LOT of pages and I know scrolling through websites can be cumbersome and you have to remember to keep going back to it…
Then I realised that this would be the perfect content for the A Pinch of Magick app!
So it's all on the app and ready for you to explore.
Click the app menu and select, 'Starter Kit' -> Your Magickal Life, and then you're ready to go.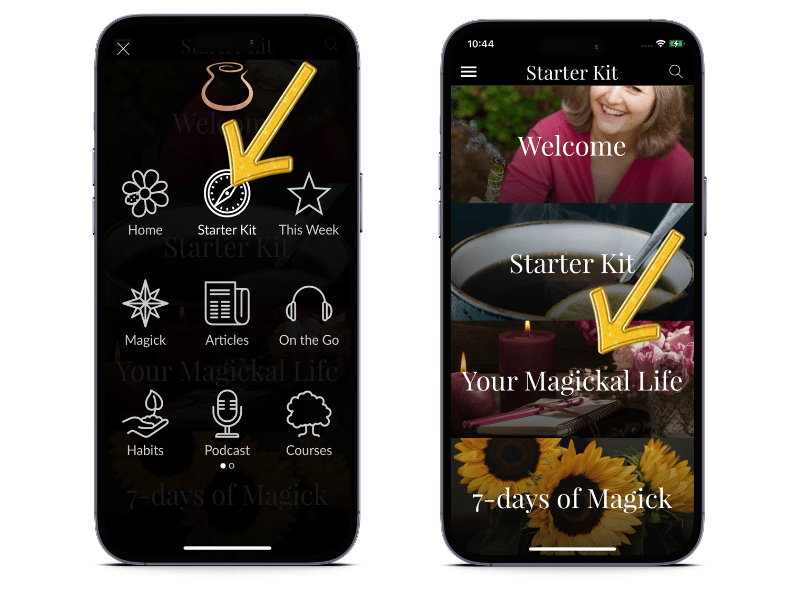 Here's a sneak peek into the transformative journey that lies ahead:
Section 1: Unveiling Your Inner Alchemist: The Quest for Your Magickal Life

The beginning of your magickal adventure! Here, you'll unearth the essence of your magickal life, delving into the sensory symphony of your deepest desires and visions. This is the crucible where your magickal life begins to crystallise!
Section 2: The Liberators' Realm: Breaking Free from Illusory Chains

Prepare to shatter the 'shoulds' and limiting beliefs that have ensnared your spirit. Envision yourself breaking free from these illusionary chains and stepping into a realm of boundless potential. This section is your key to unlocking a life of limitless possibilities!
Section 3: The Artisan's Workshop: Crafting Your Magickal Life

Here, you'll weave daily rituals and magickal moments that elevate your life from the mundane to the magickal. Ever dreamt of turning the ordinary into the extraordinary? Consider this section your enchanted guidebook to doing just that!
Section 4: The Alchemist's Laboratory: Practical Magick Unveiled

Welcome to your magickal toolbox! From the ancient wisdom of crystals and tarot to the modern marvels of technology, this section equips you with the practical tools you need to craft a life imbued with magick.
Section 5: The Eternal Dance: Maintaining Your Magickal Life

Your magickal life is not a mere destination but a wondrous journey! Here, you'll learn the arts of accountability, adaptability, and celebration. Because every step on this magickal path is a triumph that deserves its own standing ovation!
So, are you ready to reclaim your power and craft a life that's as magickal as you are?
If you don't already have the app, you can download it for free here:
The mobile app: 'A Pinch of Magick'
your portable potion for everyday enchantment.
A Pinch of Magick is far more than an app—it's your personal talisman, a conjurer of dreams, a catalyst for cultivating a realm of positivity.
Tailored for the modern magickal curious, it's snugly nestled within your smartphone, ready to infuse your life with magick at a moment's notice.